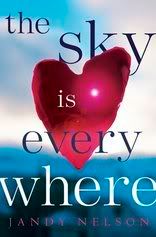 Release Date: March 9, 2010
Publisher: Dial
Pages: 272
Review Source: Library
Synopsis:
(from Goodreads)
Seventeen-year-old Lennie Walker, bookworm and band geek, plays second clarinet and spends her time tucked safely and happily in the shadow of her fiery older sister, Bailey. But when Bailey dies abruptly, Lennie is catapulted to center stage of her own life—and, despite her nonexistent history with boys, suddenly finds herself struggling to balance two. Toby was Bailey's boyfriend; his grief mirrors Lennie's own. Joe is the new boy in town, a transplant from Paris whose nearly magical grin is matched only by his musical talent. For Lennie, they're the sun and the moon; one boy takes her out of her sorrow, the other comforts her in it. But just like their celestial counterparts, they can't collide without the whole wide world exploding.
This remarkable debut is perfect for fans of Sarah Dessen, Deb Caletti, and Francesca Lia Block. Just as much a celebration of love as it is a portrait of loss, Lennie's struggle to sort her own melody out of the noise around her is always honest, often hilarious, and ultimately unforgettable.
My Thoughts:
I read this book based on a recommendation from YA author Susane Colasanti on
her blog
. I am SO glad I decided to read it, because it's absolutely amazing. The language Jandy Nelson uses is somewhat poetic, but accessible. It reminds me a bit of 'North of Beautiful' (Justina Chen Headley) in that way. Lennie is a very likable and empathetic character, as are all of the characters presented. The characters almost become like your friends, and Nelson's writing allows readers to truly feel loss, sorrow, and the love that the characters in the book are feeling. I would highly recommend this read to anyone who knows that life can be messy and complicated but who still believes in true love.
Rating:
Find
The Sky is Everywhere
by Jandy Nelson on
Goodreads
,
Book Depository
, &
Amazon.ca