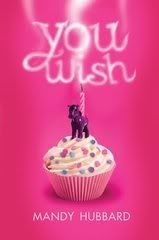 Release Date: August 5, 2010
Publisher: Razorbill
Pages: 272
Review Source: Library
Synopsis:
(from Goodreads)
What if all your wishes really came true?
Kayla McHenry's sweet sixteen sucks! Her dad left, her grades dropped, and her BFF is dating the boy Kayla's secretly loved for years. Blowing out her candles, Kayla thinks: I wish my birthday wishes actually came true. Because they never freakin' do.
Kayla wakes the next day to a life-sized, bright pink My Little Pony outside her window. Then a year's supply of gumballs arrives. A boy named Ken with a disturbing resemblance to the doll of the same name stalks her. As the ghosts of Kayla's wishes-past appear, they take her on a wild ride . . . but they MUST STOP. Because when she was fifteen? She wished Ben Mackenzie would kiss her. And Ben is her best friend's boyfriend.
My Thoughts:
This book is funny, sweet, and so perfectly in tune with the voice of teenagers. Kayla's cynical yet vulnerable nature reminded me so much of high school, and I wish I had this book back then to put in the hands of some of my friends. Kayla's attitude toward everything and anyone popular reminded me a lot of people I knew in high school, which is partially why the book rang so true to me. I really appreciated the lessons that Kayla learned throughout the book, and I think Mandy Hubbard did a good job at presenting a "Message" without it being didactic. Instead of preaching to readers, Hubbard allows you to love and empathize with Kayla and be happy for her when she realizes some things about herself. The "I'm in love with my best friend's boyfriend" plot device is a bit old, but I still squee'd at the chemistry between Kayla and Ben. All of the birthday wishes led to crazy and interesting situations which ranged from being absolutely hilarious to touching and sad. If you've been searching for a quick and funny read which also has romantic aspects and emotional depth, look no further.
Rating:

Find
You Wish
by Mandy Hubbard on
Goodreads
,
Book Depository
, &
Amazon.ca