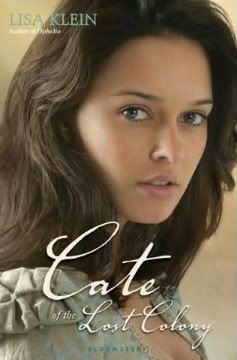 Release Date: October 12, 2010
Publisher: Bloomsbury
Pages: 336
Review Source: Library
Synopsis:
(from Goodreads)
Lady Catherine is one of Queen Elizabeth's favorite court maidens—until her forbidden romance with Sir Walter Ralegh is discovered. In a bitter twist of irony, the jealous queen banishes Cate to Ralegh's colony of Roanoke, in the New World. Ralegh pledges to come for Cate, but as the months stretch out, Cate begins to doubt his promise and his love. Instead it is Manteo, a Croatoan Indian, whom the colonists—and Cate—increasingly turn to. Yet just as Cate's longings for England and Ralegh fade and she discovers a new love in Manteo, Ralegh will finally set sail for the New World.
Seamlessly weaving together fact with fiction, Lisa Klein's newest historical drama is an engrossing tale of adventure and forbidden love—kindled by one of the most famous mysteries in American history: the fate of the settlers at Roanoke, who disappeared without a trace forty years before the Pilgrims would set foot in Plymouth.
My Thoughts:
'Cate of the Lost Colony' is a hard book to describe. It's a love story, but not really. It's definitely a survival story, yet the beginning of the novel takes place within the cushy court of Queen Elizabeth I. The book even offers different narrative points of view. The main story of the novel is told by Lady Catherine Archer, or Cate, but we also get to hear from Sir Walter Ralegh and a native named Manteo, making the perspective of the novel even more rich and full.
I thought this book was so lovely because of the vivid historical details. I adored how Lisa Klein mainly used real historical figures to populate the pages of her novel. While their motivations and personalities may not be exactly accurate, seeing these real people as characters and having real events take place within the fictional story gave it an immense amount of authenticity. As a history major during my undergrad I was fascinated with the unsolved mystery of the Roanoke, or Lost, Colony, so I really enjoyed reading a fictional account of the story. Klein has given us a glimpse into the daily lives of the people who made up this colony, offering her own reasons and explanations for what happened to the settlers of Roanoke.
Along with all the historical details, Klein has created a strong and likable female heroine in Cate. This novel is as much a coming of age story as it is a survival tale, and I became quite invested in Cate's story, hoping it would have a happy ending. I would recommend this to history geeks like myself and fans of historical YA in particular because of all the rich details that Klein presents on the pages of this book. If you like period books that are full of as much adventure as they are personal reflection and heart, no doubt you will appreciate this book.
Rating:

Find
Cate of the Lost Colony
by Lisa Klein on
Goodreads
,
Book Depository
, &
Amazon.ca