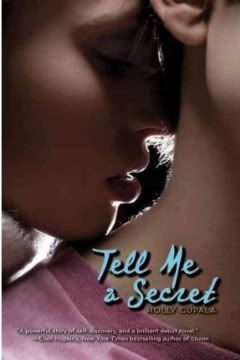 Release Date: June 22, 2010
Publisher: HarperTeen
Pages: 304
Review Source: Won in contest
Synopsis:
(from Goodreads)
It's tough living in the shadow of a dead girl. . . .
In the five years since her bad-girl sister Xanda's death, Miranda Mathison has wondered about the secret her sister took to the grave, and what really happened the night she died. Now, just as Miranda is on the cusp of her dreams—a best friend to unlock her sister's world, a ticket to art school, and a boyfriend to fly her away from it all—Miranda has a secret all her own.
When two lines on a pregnancy test confirm her worst fears, Miranda is stripped of her former life. She must make a choice with tremendous consequences and finally face her sister's demons and her own.
In this powerful debut novel, stunning new talent Holly Cupala illuminates the dark struggle of a girl who must let go of her past to find a way into her own future.
My Thoughts:
I've been anticipating this book for forever, and I was lucky enough to win an autographed copy last year, yet for some reason I just got around to it now. I wasn't sure what to expect from 'Tell Me A Secret'. I knew it would be sad, and that was about it. Well, let me tell you that this was a seriously hard book to read. I pretty much hated all the characters, except for the main protagonist Rand (Miranda), who I felt absolutely sorry for.
I found it horribly heartbreaking to read about Rand having to go through her pregnancy with no one to support her. Rand's mother was absolutely psychotic. She was hypocritical and judgemental, and the worst example that a Christian could ever set. Kamran (the father of Rand's baby) and Rand's "friends" were practically just as bad. They were horrible, and I couldn't believe how Rand was judged and persecuted, while everyone sat idly by.
Holly Cupala's writing is wonderful, and as you can tell from my reactions, she deeply connects you into Rand's story. Every little part of the book elicits an emotional reaction, which I found quite magical. There are a couple of "good" characters in this book and Rand is such an incredible example of how teens can rise above their situations, so don't think that it's a total downer, but mostly this is just a heartbreaking story. Perhaps I was especially struck by it because I tend to stay away from "sad" books. There is redemption for some of the characters toward the end of the book, but I had a hard time accepting their repentance. Overall, I would highly recommend this to fans of realistic contemporary fiction. This book caused me a lot of sorrow, but it was wonderful at the same time.
Rating:

Find
Tell Me A Secret
by Holly Cupala on
Goodreads
,
Book Depository
, &
Amazon.ca