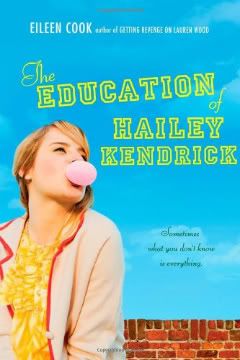 Release Date: January 4, 2011
Publisher: Simon Pulse
Pages: 244
Review Source: Library
Synopsis:
(from Goodreads)
Hailey Kendrick always does exactly what's expected of her. She has the right friends, dates the perfect boy, gets good grades, and follows all the rules. But one night, Hailey risks everything by breaking a very big rule in a very public way...and with a very unexpected partner in crime. Hailey gets caught, but her accomplice does not, and Hailey takes the fall for both of them.
Suddenly, Hailey's perfect life--and her reputation--are blowing up in her face. Her friends are all avoiding her. Her teachers don't trust her. Her boyfriend won't even speak to her for long enough to tell her that she's been dumped.
They say honesty is the best policy--but some secrets are worth keeping, no matter the cost. Or are they?
My Thoughts:
I found this to be a quick, but very enjoyable, read. Hailey is a likable character: she's popular and wants to be liked, but she's not a brat. I appreciated how she was generally a nice girl and wanted to do the right thing. Normally this is a good thing, but this good intention of Hailey's has spun out of control. Hailey wants to impress her absent Dad so badly that she tries too hard to be perfect, something which just isn't possible. With this in mind, the book shares a great lesson that, metaphorically, it's okay to colour outside the lines every once in a while.
I liked that none of the characters in the novel were cliches. It was refreshing that while Drew helps Hailey realize things about herself, he's not that typical Guru character. He might recognize things about Hailey, but Hailey works things out for herself, learning through making mistakes. The romance subplot is cute, but it's just that: a subplot. While romantic entanglements make up the backbone of the story, the book isn't about boys, and in this case that's a good thing. This is a strong book about a girl educating herself, learning how to stand up for herself and be who she really wants to be. Overall, I would highly recommend this modern day Scarlett Letter-inspired tale.
Rating:

Find
The Education of Hailey Kendrick
by Eileen Cook on
Goodreads
,
Book Depository
, &
Amazon.ca
P.S. Happy Birthday to my amazing friend, Mistee!! <3